Apprenticeship programme gains pace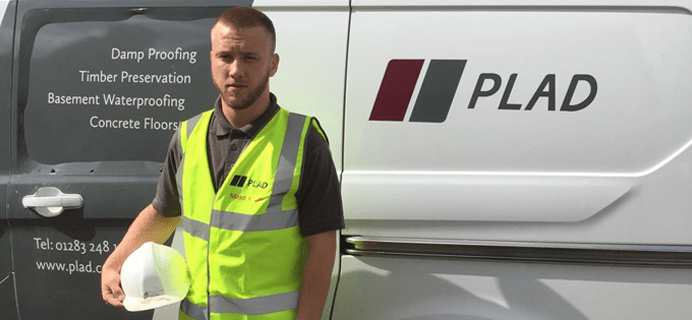 M&P Preservation's  Apprenticeship Programme is going from strength to strength, with two successful apprenticeships successfully completed and more school/college leavers encouraged to apply for a new two-year apprenticeship.
Apprenticeships enable young people to gain invaluable 'on the job' experience, working alongside skilled members of staff, while attending college and working towards NVQ Level 2. Prestec commenced their apprenticeship programme in 2012, and to date has achieved two successful apprenticeships, one in plastering and the other in carpentry & joinery.
The Property Care Association (PCA) Specialist Apprenticeship Programme for damp and timber was launched in 2015 and Prestec enrolled their first apprentice on the two-year programme in May 2016.
Ben had been working for Prestec since April 2015, initially working as a labourer before applying for the apprenticeship programme. Having completed a couple of jobs for M&P, the company's specialist timber and damp proofing division, he expressed interest in becoming a Timber & Damp Operative.
A typical day sees Ben assisting the surveyor and team in their daily duties such as removing plaster, injecting walls and removing and relaying timber floors. He describes himself as a hardworking, independent individual and particularly enjoys working in different places and learning new aspects of the job every day. Ben's biggest challenge so far has involved dealing with customers and he is learning the importance of providing good customer service and remaining physically fit. He describes the job as fun, interesting and, quite often, dirty!
The PCA's two-year apprenticeship programme takes company employees who are beginning their career in damp and timber treatment through the NVQ Level 2 Diploma 'In-situ Treatment of Timber and Damp Above Ground in Buildings'. Full details of the programme, including specialist apprenticeship scheme grants & costs, can be found at http://www.property-care.org/specialist-apprenticeship-programme/
As well as apprenticeships, Prestec has also helped another young employee, Anna, to achieve NVQ Level 2 in Business & Administration and she is now working towards Level 3. Prestec remains committed to employing apprentices as a means of encouraging school and college leavers to enter the construction industry. To find out more about please click here.